10 Creative Wedding Dessert Ideas
Don't get us wrong – we love the traditional wedding cake positioned perfectly on a cake stand for all guests to admire. If you're looking to provide your guests with options, a dessert bar may be right up your alley. Dessert bars have become a popular choice for wedding couples to allow guests to sample their favorite sweets, and in a fun, interactive way. Guests of all ages can tap into their sweet tooth as they experience the stylish table of post-dancing treats. From cake pops to cream puff towers, end the celebration on a sweet note with our ideas!
Photo | Sweet Philosophy
1. Cake Pops
A craze for the past few years, these mini cakes on a stick are the perfect bite guests can grab as they head to and from the dance floor. Customize the colors and decorations to fit your overall theme, and offer a variety of flavors like vanilla, chocolate, lemon and red velvet.
Photo | Carlie Statsky
2. Donut Wall
Make your backdrop your dessert! Guests can choose their favorite donut from this beautiful display, and snap a few photos for Instagram while they're at it!
Photo | In Love By Bina Terre
3. Cupcake Cart
Make your wedding desserts mobile! This cupcake cart features an assortment of expertly-crafted cupcakes, perfect to pass to guests in need of a sweet treat. Couple the cupcakes with champagne to give guests a swanky experience.
Photo | Harewell Photography
4. Cream Puff Tower
This extravagant dessert doubles as a display! This cream puff tower is adorned with white and pink roses for a sweet, elegant touch.
Photo | Maggie Turner
5. Chocolate Covered Strawberries
A messy but delicious favorite, chocolate covered strawberries will satisfy anyone's dessert cravings. Play up the colors and flavors, like champagne-infused chocolate and rose gold embellishments.
Photo | Style Me Pretty
6. Milk + Cookies
Serve up everyone's childhood favorite – milk and cookies. From classic chocolate chip to lemon sugar cookies, guests will loved this nostalgic gesture. Offer almond, coconut, oat and regular milk in champagne flutes for an elegant touch.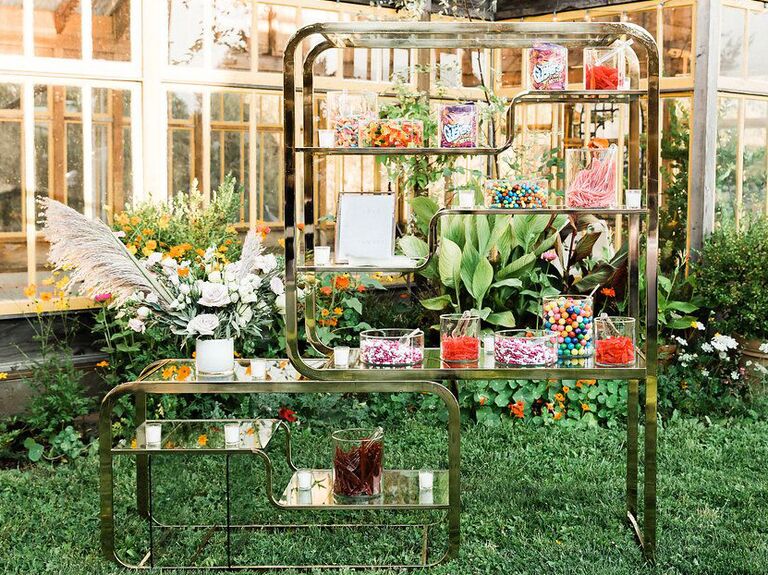 Photo |Joe Duenas Photography
7. Candy Bar
Travel back in time with this retro-cool candy bar! This art deco display features classic candies from the past and present, from to Mallo Cups to Gushers.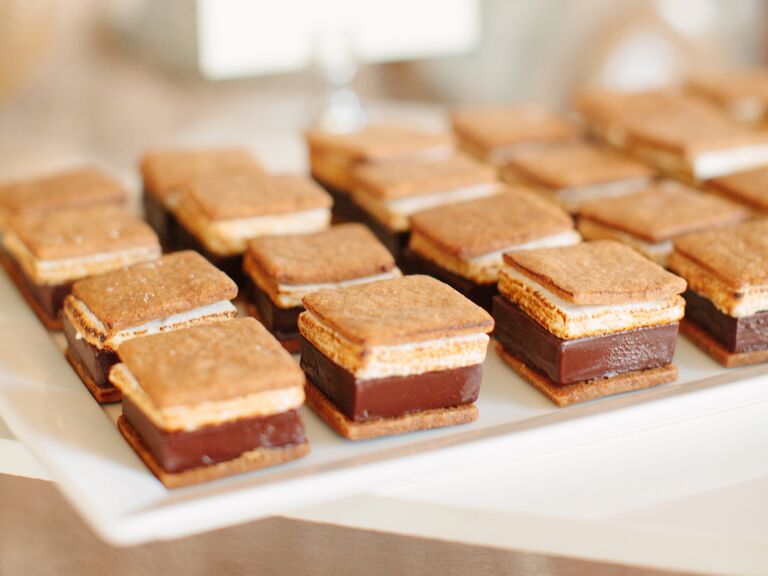 Photo | Meg Perotti
8. S'mores
A campfire favorite any time of year, s'mores are bound to be a hit with your wedding guests. Offer unexpected add-ins like cookie butter, peanut butter cups and white chocolate.
Photo | Hannah Kate Photography
9. Cotton Candy
Have you ever seen cotton candy look so lavish? Give guests an interactive experience with a cotton candy bar! Whip up treats of pastel pink and blue that make for the perfect social media moment.

Photo | Lindorelli
10. Churros
You can't go wrong with this cinnamon-sugar treat. Serve in petite glasses with a cinnamon-coated rim and scoops of ice cream – your guests will go crazy!
Which wedding dessert idea will you use on your big day? Tag us in your wedding photos at @wayfarers_chapel on Instagram!