10 Seasonal Flowers You Need for Your Fall Wedding
It's officially fall! Although it might still seem like summer here in sunny Southern California, the seasons are changing and so are wedding trends. As you start pulling together details for your fall wedding, embrace the fall foliage and warm seasonal shades to add vibrancy to your nuptials. See below for all the berry, fiery blooms your heart desires!
Photo | Tony Wodarck Photography
1. Chrysanthemums
Chrysanthemums, or mums, are flowering blooms that come in a variety of shades, shapes and sizes. Ranging from creamy white to deep purple, mums are the perfect fall-blooming plant. Utilize the deep bronze, gold and burgundy varieties for the ultimate autumn bouquet.
Photo | The Rowlands
2. Anemones
You may have seen the white anemone with the deep blue center all around the wedding scene, but this flower also comes in vibrant red, pink, yellow and purple shades. The daisy-like shape and lobed foliage make it the perfect bloom to incorporate into your fall wedding florals.
3. Asters
Meet September's birth flower: the aster. These tiny little blooms have daisy-like circular florets reminiscent of a celestial sky, giving them their "star" meaning in Greek. Perfect for your wedding day, the aster represents love, devotion, valor and charm.
Photo | Mon Cheri Bridals
4. Dahlias
The quintessential fall wedding flower, the dahlia is bold and striking for any bouquet. This beautiful bulb comes in a rainbow of colors, and is also related to the sunflower, zinnia, daisy and chrysanthemum. Try mixing different varieties into your wedding arrangements, such as the deep burgundy and pale pink tones featured above.
Photo | Christina Lilly Photography
5. Celosia
Celosia comes in a variety of shapes and hues, making it easy to switch up your wedding florals. The crested, brian-like variety pictured here is fuzzy and unique in appearance, while the plume-like flowers look like tapered cotton candy that add texture and vertical appeal.
Photo | Snippet & Ink
6. Bi-color Roses
Not your typical roses, these blooms come in a variety of tones with a sunset-like ombre effect. With fun names like "Candy Cane Cocktail" and "Koko Loko," there is a rose for every fall bouquet!
Photo | Whimsical Wonderland Weddings
7. Wax Flowers
Wax flowers are an attractive addition to any fall bouquet, their flowering buds complementing any mix of blooms. With their sweet fragrance and minimal texture, these flowers are sure to add visual interest to your centerpieces, boutonnieres and bouquets.
Photo | Nouba
8. Flowering Kale
Also known as ornamental cabbage, flowering kale gives your wedding florals a unique but beautiful look. Its extravagantly ruffled and feathered leaves make any bouquet bountiful and full, and can even add a pop of purple depending on the variety.
Photo | Wedding Wire
9. Amaranthus
These cascading blooms are known for their ruby red color, but also come in deep pinks and greens! The ultimate accent to any fall arrangement, the rope-like flower looks breathtaking among classic or exotic florals.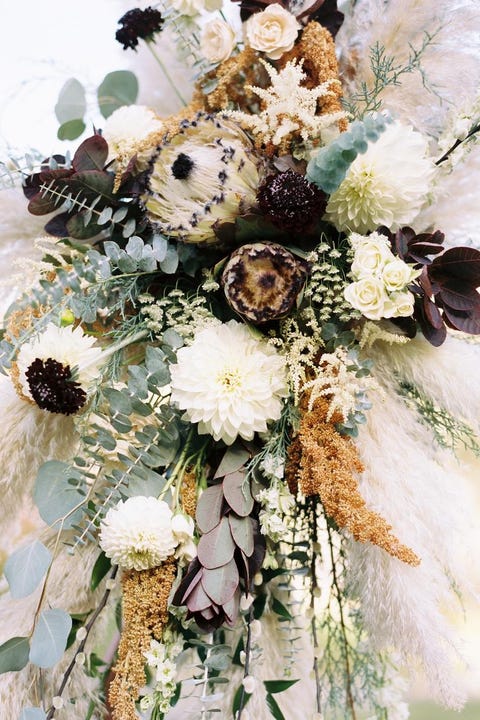 Photo | Vintage Magnolia
10. King Proteas
This muted-toned arrangement is bountiful and rustic. The King Protea is surrounded by eucalyptus, roses and dahlias for a stunning statement. King Proteas also come in a gorgeous burgundy color, which you can't go wrong with for the fall season!
Which flowers will you be incorporating into your fall wedding? Tag us in you autumn wedding photos @wayfarers_chapel on Instagram!