6 Special Moments to Share with Your Dad on Your Wedding Day
He spun you around in your tulle party dress, and now he's walking you down the aisle. Your dad has been there for so many of life's little and big moments, and he's about to be there for the biggest one. With the craziness of wedding planning, it's easy to be focused on garden roses, chocolate ganache and bridesmaids dresses. Make your dad feel special on your wedding day so he knows he'll always be your number one guy. In honor of Father's Day, we're sharing how to do just that – daughters, take notes!
Photo | Jen Huang Photography
1. Special Boutonniere
Typically the groomsmen and men in the wedding party all wear the same boutonniere with their suit or tux. Make your dad feel extra special with a unique boutonniere of his own – perhaps a pop of color against neutrals or succulents instead of flowers. He'll appreciate the gesture that will make him stand out as the man of the hour.
Photo | Ideal Pin
2. Write a Sweet Note
This doesn't have to be as detailed as your vows, but should convey how much your dad means to you. Slip the note under his dinner menu or in his suit pocket pre-ceremony. Let him know the favorite moments you've shared, and that you'll always be his little girl. It's an especially emotional day for the parents of the bride or groom, so this little detail will make a big impact.
Photo | Wedding Forward
3. First Look
Sure, your husband-to-be can still take a peek before the wedding ceremony begins – but giving your dad the very first look allows for an intimate moment to share with each other. Spending this extra time with your dad will make him feel so special, and you'll always remember this moment before he gave you away.
Photo | Brandon Kidd
4. Walking Down the Aisle
This is a distinctive moment all wedding guests take joy in watching – the father walking her daughter down the aisle. This tradition is a ceremonial nod to the idea of giving her away. These always end up being some of the best wedding photographs, capturing the love and respect in a father-daughter relationship. Make the moment extra special with a gesture on the way back down the aisle as a newlywed, such as a kiss on your father's cheek or a warm embrace.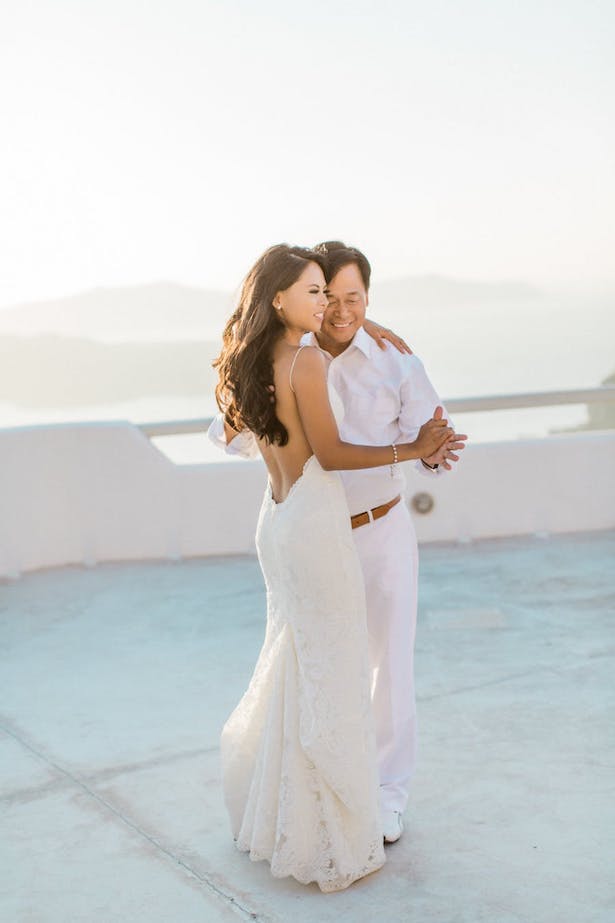 Photo | Anna Roussos
5. Father-Daughter Dance
This one is a no brainer. After the newlyweds have their first dance, it's tradition for the father and daughter to share a special moment on the dancefloor. While many couples attend dance lessons before their wedding day, dads and daughters can do the same and spend some extra time together during the wedding process. Whether you choreograph a fun routine or sway to a song he introduced you to, dancing with your dad is a wedding moment you won't ever forget.
Photo | Lisa Webb
6. Father of the Bride Speech
This moment is typically taken to thank guests for coming, share stories about his daughter's life, officially welcome the groom into the family as his son-in-law and provide a toast to the happy couple. The speech will remind you of his sense of humor and unique memories you've shared together.
Happy Father's Day, Dads! We hope you have a beautiful day spent with family and loved ones.