6 Wedding Cake Trends To Wow Your Guests
What's a wedding without a wedding cake? Those multi-tiered confectionery masterpieces aren't just tradition, they're delicious, too. Satisfy those sweet tooths with these tasty trends you'll see all throughout spring and summer.
Photo | Sotiris Tsakanikas
1. Abundant Florals
A wedding cake topped with fresh flowers is nothing new – but outrageous, overflowing greenery and blossoms are the new focus. Think cascading flowers and impressive arrangements that look more like art than dessert!
Photo | Alicia Mink
2. Dark + Romantic
The moodier, the better. Black is the hottest wedding color at the moment, and luckily, it goes with everything. Most people think bright and bold when it comes to the warmer months, but some brides are sticking to an all-black, dramatic theme. The juxtaposition between the lightness of the summer season and dark details is ultra sophisticated and modern. A rich chocolate cake with an equally rich color scheme will certainly do the trick.
Photo | Bloved Weddings
3. Surprise Middle
You might see these crafty cakes popping up in your local cake shops. It may look like your typical wedding cake on the outside, but is filled with a sweet surprise on the inside. Whether it's sprinkles, Skittles or sparkles, these cakes will wow your guests the second you cut a slice.
Photo | Tidewater and Tulle
4. Paint Strokes
For the cool, cultured couple, this confection takes the cake! Vibrant, 3-dimensional strokes make a bold statement that almost looks too exquisite to eat! Tailor the colors and patterns to fit the decor and aesthetic of your big day.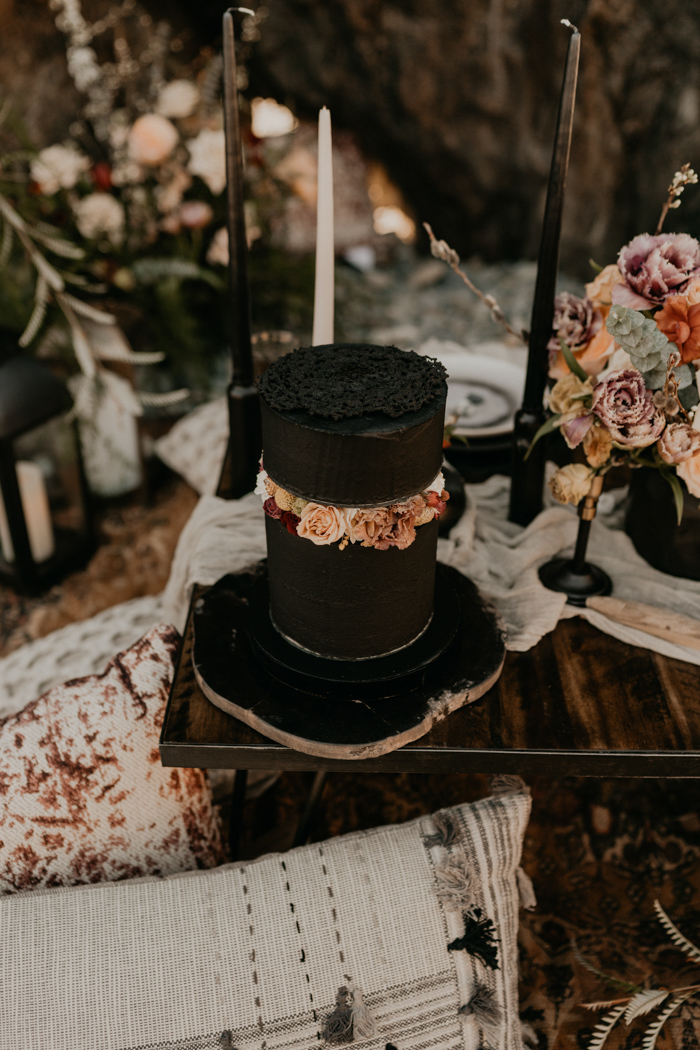 Photo | Henry Tieu Photography
5. Floating Cake
This trend is destined to capture your guests' attention. 'Floating cakes' have spacious layers, either hollowed empty or filled with delicate details like flowers or fruit. Both mystifying and magical, this cake is sure to be a showstopper.
Photo | Misty C Photography
6. Funky Groom's Cake
Most of the time, the bride-to-be is spearheading the wedding planning. Albeit beautiful, the feminine flowers and decor are most likely not the groom's preferred taste. While most couples have an elegant, tiered wedding cake, today's weddings are taking a moment to celebrate the groom, too. Incorporate his favorite things, like his favorite TV show or #1 sports team.