Creative Ideas for Your Wedding Invitations
Your wedding invitations are the first representation of the day you'll say "I do," so why not make them special? You'll spend a significant amount of time deciding the theme, color scheme, wording, not to mention who you'll send to. In addition to informing your guests of the event's details, these serve as a creative opportunity to display you and your spouse-to-be's personality. Make a statement with your wedding invitations that will have attendees marking the days off their calendar until your special day!
Photo | Ohsobeautifulpaper.com
Fold-Out Watercolor
This one-of-a-kind wedding invitation is so much more than the date and where you're tying the knot. Utilize an artist to illustrate details of your wedding, including the future bride and groom, wedding venue and destination.
Photo | @parlerstudio
Velvet Details
Add a touch of glamour to your invites with luxe velvet details, from envelopes to bows. Especially as we enter into the fall and winter seasons, this trend will start popping up everywhere.
Photo | Here and There Wedding Studio
Boarding Passes
If you're having a destination wedding, this invitation is made for you! These unique invites resemble boarding passes to reveal the wedding destination to excite guests. Add fun details like a map, itinerary and colorful graphics.

Photo | Margo and Bees
Gold Foil
Metallic details like gold foil or lettering are a gorgeous way to make your wedding invitations stand out. Complete your beautiful invites with a custom gold wax seal incorporating your names or family crests.
Photo | Etsy
Plantable Invites
Air on the side of sustainability with these recyclable and plantable wedding invitations. The seeded paper allows guests to actually plant the invite and see herbs and wildflowers grow. Equally eco-friendly and exquisite, these invites are bound to be a hit!
Photo | Martha Stewart Weddings
Boxed Wedding Invitations
It's not only exciting to receive a wedding invitation, but also is an unexpected surprise to see it as a gift box! A matte black box, thin gold-etched glass, and fresh greenery make for an unforgettable display anyone would be delighted to open. Especially if you're having your wedding at The Glass Chapel, this invite is the perfect way to convey the aesthetic of the venue.

Photo | Etsy
Agate
Beautiful, raw agate makes for a one-of-a-kind wedding invitation your guests can keep forever. Choose colored crystals and metallic script to create a magical invitation that is anything but ordinary.
Photo | Corbin Gurkin
Viewfinder
If this vintage viewfinder doesn't transport you back in time, then we don't know what does! Your guests can click through to see elements of your wedding day, including your engagement photography, ceremony and reception venues and any memories you have shared leading up to the big day. Creative and whimsical, this invitation is sure to impress!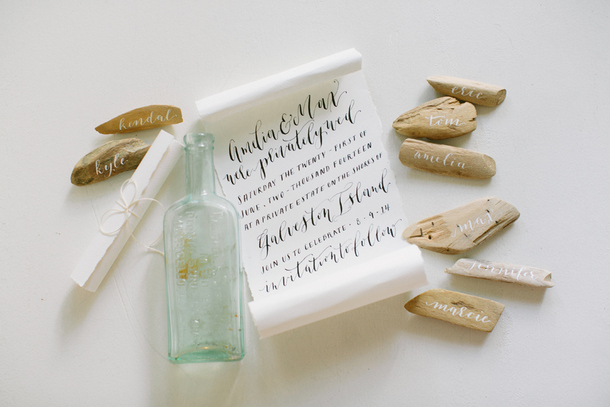 Photo | Korie Lynn Herold
Message in a Bottle
A message in the bottle invite is perfect for a wedding near the beach in sunny Southern California. Attendees will love opening this creative invite, seeming to have come straight from the sea!
Which creative wedding invitation was your favorite? Tag us in your wedding photos at @wayfarers_chapel on Instagram!