How to Have a Wicked Good Harry Potter Wedding
Wayfarers Chapel can be transformed into anything you want it to be. To some, it's an enchanted forest fit for a princess, or maybe an art-deco oasis perfect for a bohemian bride. For others, the glass chapel transports them to another world entirely. Harry Potter fans, listen up – this one's for you. Get your wands ready, because your fantasy wedding day is just within reach.
Photo | Carissa Woo
Starry Engagement
Add a touch of whimsy and wizardry to your engagement photos with glittery stars to toss into the air. Wands, golden snitches and broomsticks are all fair game. A truly magical moment captured for star-crossed lovers!
Photo | @sara_n_dipity
Forbidden Forest
Wayfarers Chapel might as well be the famed Forbidden Forest. The grounds' towering trees and mystical ambience makes it the quintessential ceremony venue that even a Muggle would enjoy.
Photo | Wedding Chicks
Head Boy, Best Man
The best man deserves the utmost recognition, so it's only fitting for him to wear the title of 'Head Boy' as his boutonniere.
Photo | Courtney Bowlden Photography
You've Been Sorted
Let the Sorting Hat work its magic and seat your guests accordingly by – you guessed it – Hogwarts houses!
Photo | Wedding Bells
Reception Magic
The Great Hall is the only place to host your reception! Emulate the look of this classic Hogwarts location with hanging candles, rich tones and gold accents.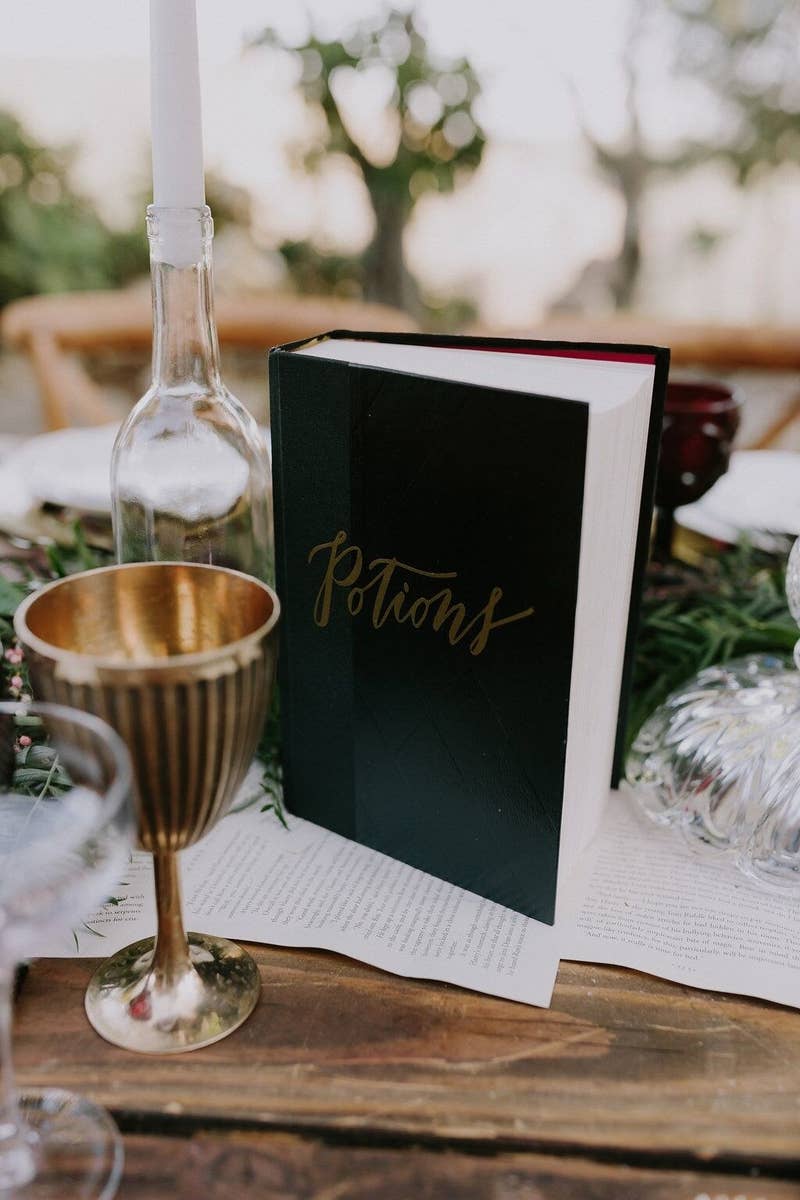 Photo | Nirav Patel
Spellbinding Setting
This enchanting place setting has everything your guests need to feel as if they're dining at the Great Hall: a potion book, dripping dinner candles and golden goblets. For an especially distinctive detail, place torn pages from the Harry Potter series scattered across each table.
Photo | Brit + Co
Pick Your Poison
What other signature wedding cocktail would be more appropriate than Butterbeer? Whether it's frozen, hot or on the rocks, this creamy butterscotch drink will be beloved by all your wizards and witches.
Photo | Pinterest
Have You Seen This Photo Booth?
Your guests will have so much fun recreating the prisoner posters found all around Hogsmeade.
Photo | Wedding Chicks
Chocolate Frogs
Have a hopping dessert and serve chocolate frogs, just like the ones from Honeydukes!
Romance managed, friends. Romance managed.