How to Navigate Sending "Change-the-Dates"
If you are among those who have postponed your wedding, it's important to let everyone know as soon as possible. Especially for out-of-town travelers and guests, you will want to give them a heads up as far in advance as you can. You are most likely already in touch with your close family and friends about your postponed wedding date, but may want to consider sending your guests an official "change-the-date" card to formalize the occasion.
Photo | Etsy
Choose Your Card
Whether you opt for a sturdy card, print one out at home or send a digital version, decide which style suits you and your wedding aesthetic best. From classic to modern, there are different templates to choose from that will complement your taste.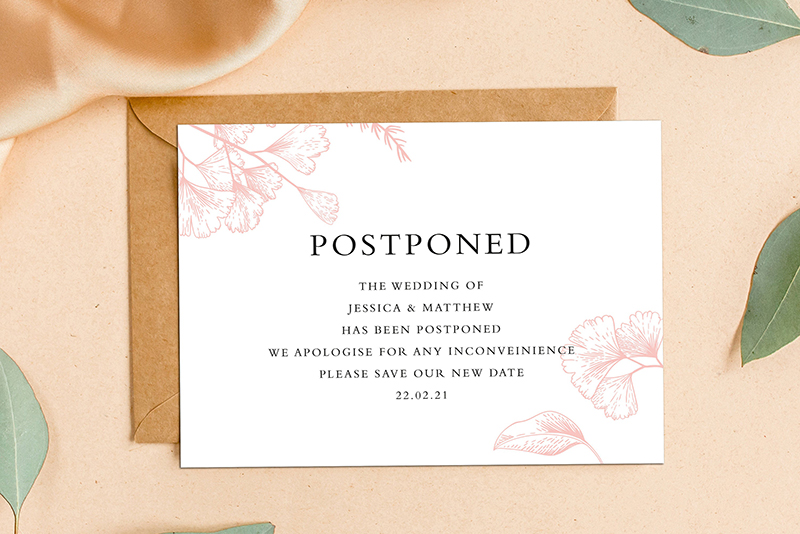 Photo | Paper Park Co.
If You Have a New Wedding Date
If you have already talked to your vendors and have a rescheduled wedding date, it's important to make the new date front and center. A go-to format would be "Change the Date" or "Postponed" as the title, followed by the wedding couple's names, with the new date and location underneath. Verbiage such as "more details to follow" lets your guests know they'll receive more information as the date gets closer.
Photo | Sweet Cloud Design
If You Don't Have a New Wedding Date
If you have not selected a new wedding date yet, that's okay! You just want to ensure your guests that the date they were originally made aware of will be postponed, but definitely will still happen. Choosing a title such as "Postponed" or "Change of Plans" will let your guests know the wedding will shift to a later date. A suggested format for the card would be to state the wedding of (insert names) to take place on (insert original wedding date) and note the date has been postponed until further notice. Consider adding that you apologize for any inconveniences this may cause and look forward to celebrating your marriage with them soon. Allude to a rescheduled date with verbiage such as "Stay tuned for our newly chosen date" or "New date to follow."
Photo | Etsy
Update Your Website
If you have a wedding website to keep your guests informed of wedding details, be sure to update the homepage to address the postponement. Be sure to update the page with any accommodations or lodging information as you secure a new date.
Photo | BHLDN
Stay Positive
Stay calm, and remain as positive as you can. Especially when things are out of your control, you have to focus on the end goal: you will be able to celebrate your marriage with your loved ones as soon as it is safe and healthy to do so. Everyone will be looking forward to your party of a lifetime that is soon to come!
For more information on weddings at Wayfarers, click here.