Quiz: What's Your Wedding Style?
Congratulations – you're engaged! Let's be real: once you've posted that engagement ring selfie on Instagram, the wedding planning begins. You've dreamed of your wedding day your whole life, and it's finally come into view. What dress will you wear? Where will your ceremony be held? Which song will you and your future spouse dance to? Before you start answering these questions, let's determine your wedding style! Your personality is what makes you uniquely you – and your big day should reflect that! Keep scrolling (and keep track of your answers) to find out what your wedding dreams are made of!
Photo | Focus Features 
1. Which movie would you binge-watch in a breeze? 
A. Midnight in Paris
B. To All The Boys I've Loved Before 
C. Snow White 
D. Moonrise Kingdom 
Photo | OC Register
 2. Ideal date night:
A. Watching the sunset on the beach
B. A tasting for two at a new brewery in your neighborhood
C. Dinner and a moonlit stroll 
D. Strolling through a modern art museum 
Photo | Bridal Musings
3. Which bouquet would be your bridesmaids' best accessory? 
A. Banana leaves, palms and protea 
B. Succulents, ranunculus and eucalyptus 
C. White roses, blush peonies and lamb's ears
D. Wildflowers, pampas grass and billy ball stems 
Photo | Friar Tux
4. Choose a color scheme: 
A. Coral + Mint
B. Copper + Gray
C. Blush + Cream 
D. Mustard + Navy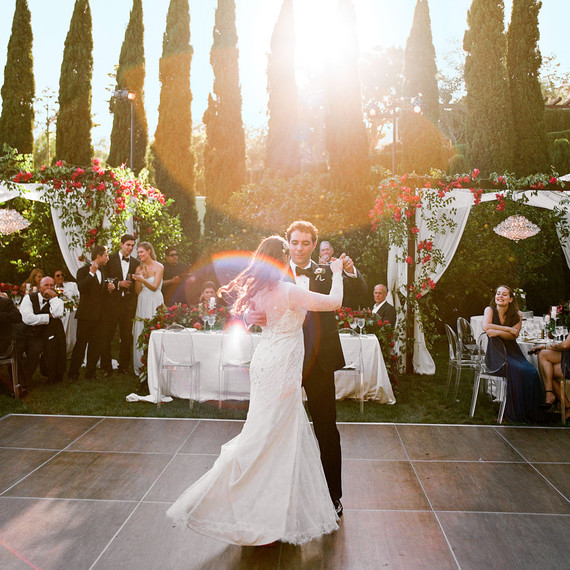 Photo | The De Jaureguis
5. Dream first dance song?
A. Leaving on a Jet Plane – Peter, Paul and Mary
B. Lovesong – Adele 
C. So This Is Love – Cinderella 
D. I'm With You – Vance Joy 
Photo | Megan Blowey Photography
6. It's dessert time! You're giving your guests:
A. Assorted Macarons
B. Churros with various dipping sauces
C. Fluffy white wedding cake 
D. Citrus-infused cupcakes 
Photo | Insider
7. Dreamy honeymoon destination?
A. Beaches in Bali 
B. Ice hotel in Canada
C. Castle in Austria
D. Villa in St. Lucia 
Photo | Kaity Brawley
8. You've picked out a neon sign for your reception decor. It says:
A. "Our adventure begins"
B. "Crazy In Love"
C. "Happily Ever After"
D. "Dearly Beloved" 
Photo | Kim Christopher Photography
9. You fancy a glass of:
A. Spanish wine 
B. La Croix 
C. Champagne
D. Kombucha 
Photo | Carissa Woo Photography
10. What do you envision wearing on your big day?
A. A breezy, effortless maxi dress that moves with you
B. A sleek, satin gown with tiny buttons down the back
C. An organza ball gown with sparkling embellishments 
D. An off-white lace and beaded a-line dress 
Tally up your answers! If you got:
Mostly A's:
DESTINATION WEDDING
You're all about planes, trains and automobiles! You love warm weather, spontaneous adventures and discovering new places with your partner. Wayfarers is the perfect place for a destination wedding: we accommodate couples from all across the country and the world, from Arizona to Australia! Beachy bluffs, an ocean view and perfect weather are what wedding dreams are made of. 
Mostly B's:
MILLENNIAL – MODERN WEDDING 
You trendsetter, you! You're dialed in to the latest and greatest trends, from the espresso you order to modish home interiors. Your friends can't wait to watch you curate your wedding day details, because they know it'll be undeniably chic and entertaining for all! The glass chapel is just about the coolest contemporary venue for your ceremony space – just saying. 
Mostly C's:
FAIRYTALE PRINCESS WEDDING  
You've seen every Disney princess movie ever made, and you're a sucker for love-at-first-sight stories. Your wedding day will be feminine, romantic and all things over-the-top. Your Pinterest board is comprised of gold and glittered decor, full flower arrangements and princess ball gowns even Cinderella would be envious of.  Wayfarers is the ideal woodland wonderland for any whimsical bride-to-be. 
Mostly D's:  
BOHEMIAN DREAM WEDDING 
You march to the beat of your own drum, and you wouldn't have it any other way! You find joy in listening to your favorite bands on vinyl and sipping cold brew at your local coffee joint. Wayfarers is an art-deco dream for bohemian brides, boasting stunning architectural design enshrouded by an evergreen oasis. 
Which wedding style are you? Be sure to hashtag what you got in your wedding photos on Instagram, and tag us @wayfarers_chapel!