Something Old, Something New, Something Borrowed, Something Blue
This old English rhyme is a wedding must for many: "Something Olde, Something New, Something Borrowed, Something Blue," guiding brides to wear items for good luck. According to The Knot, wearing "something old" represents continuity in your marriage, "something new" shows a bright future, "something borrowed" brings borrowed happiness and "something blue" symbolizes love, purity and fidelity. Couples take this as seriously as they want to, (or not) incorporating bits and pieces of the old tradition into their celebration of a new life together. Need inspiration? We've got a little something up our sleeve.
Photo | My Petite Joys
Something Old
This could be interpreted a number of ways. It could be an old item of yours, like an old pair of heels you've had for ages or those earrings you've had since you were 13. You could also go the more eclectic route, wearing something old from a stranger – like a vintage hairpin or thrifted jacket. No matter what you choose, you're giving something from the past new life!
Photo | Farfetch
Something New
The classic route with the "something new" item is a gift from the bride or groom's family. Maybe it's a bracelet that goes with your wedding dress; or a framed photo of you and your spouse's family from a trip or recent outing. You can also treat yourself to something new, like a new fragrance you'll spritz on your wedding day.
Photo | Cassandra Lynne
Photo | The Knot
Something Borrowed
The "something borrowed" can often be the most sentimental of the old tradition, borrowing an item from a close family member or perhaps someone who has passed. The item you borrow symbolizes the happiness of the community and loved ones you surround yourself with, so it's definitely a special moment. Some ideas include your mother's veil, your grandmother's vintage clutch, your best friend's favorite lipstick or your parents' first dance song – get creative with it!
Photo | Pinterest
Photo | Charlotte Tilbury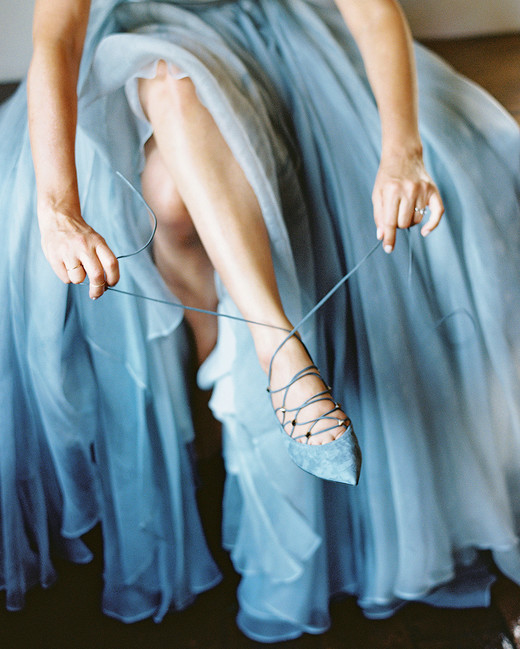 Photo | D'Arcy Benincosa Photography
Something Blue
This one's probably the easiest of the bunch – you can always add a little blue! Some ideas we love: blue ribbon wrapped around the stem of your bouquet, a pop of color with your shoes, velvet box to house your rings or subtle decor details. Adding a blue hue in understated ways keeps the tradition playful and fun!
Photo | Polka Dot Events
Which idea would you consider incorporating on your wedding day? We want to see all your something's! Tag us in your wedding day photos on Instagram @wayfarers_chapel